| | | |
| --- | --- | --- |
| | | |
| D-9 Champions Sharon Olmstead & Eva Mae Lake | D-9 Champions Tom Putnam & Ed Leonard | A-9 Champions Maureen Viele & Dave Patchkowski |
PAM
NURNBERGER WINS HER SECOND FSA "LADIES" MASTERS CHAMPIONSHIP AT LEE
COUNTY AS SWCD IS WELL REPRESENTED!
L/R: 
JERRY STANNARD, SECOND IN THE MENS DIVISION; TERRI SMITH, SECOND IN
LADIES DIVISION, PAM NURNBERGER AND ROSAIRE COTE, ALTERNATE IN MENS
DIVISION: CONGRATULATIONS!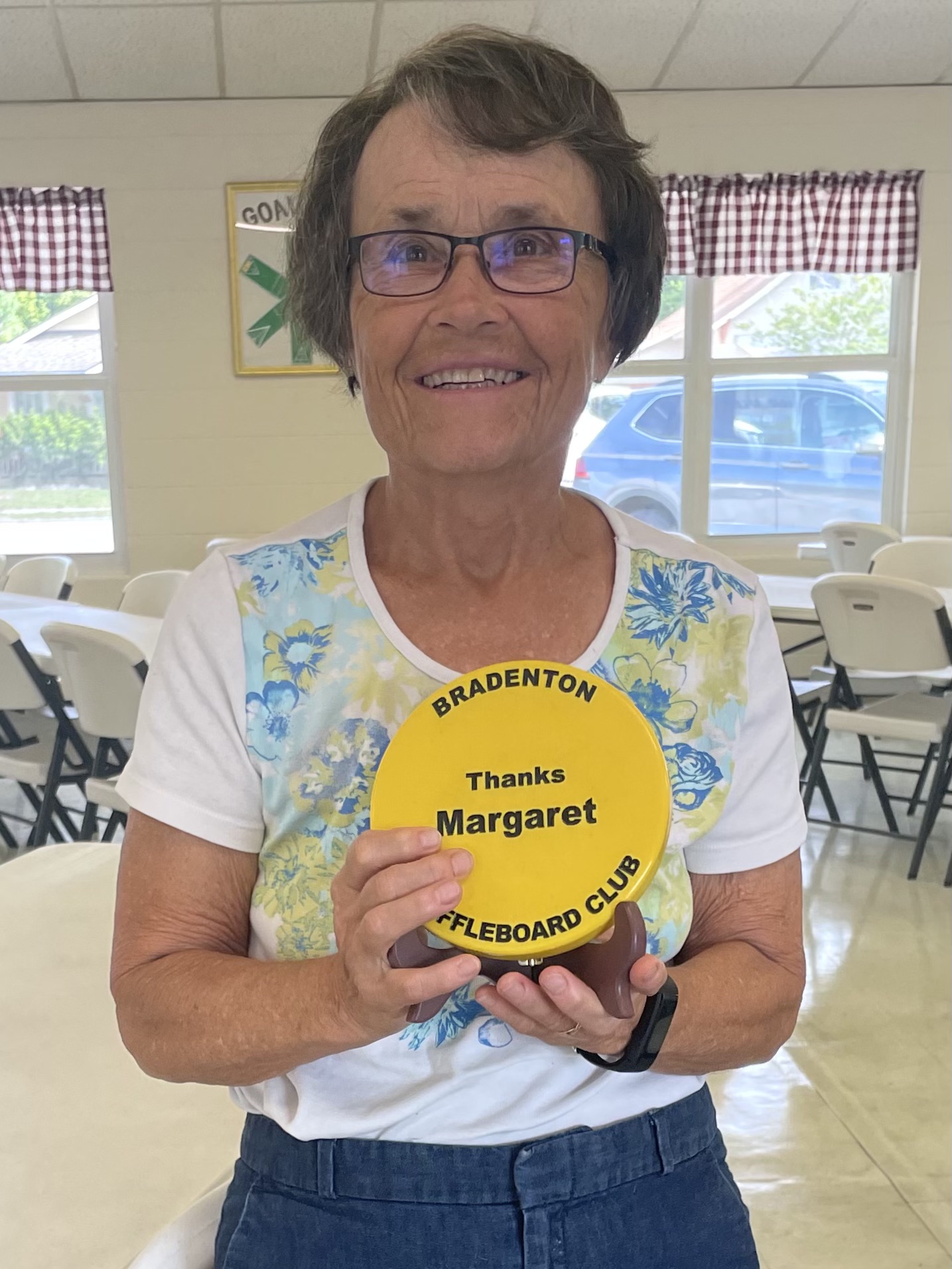 AT
THEIR APRIL BOARD MEETING, BSC BOARD MEMBERS PRESENTED MARGARET WITH A
SHUFFLE "DISC" IN APPRECIATION FOR SERVICE TO THE BOARD FOR THE PAST
11 YEARS.   
TERRI
SMITH WINS THE "TOURNAMENT OF CHAMPIONS" LADIES NON-WALKING
DIVISION AT CLEARWATER TUESDAY—CONGRATULATIONS TERRI!
PAM
NURNBERGER WON THE LADIES 'WALKING' DIVISION AT THE "TOURNAMENT OF
CHAMPIONS" MONDAY IN CLEARWATER,  CONGRATULATIONS PAM!
2022-23 SWCD BOARD MEMBERSL/R:
TERRI SMITH, TOURNAMENT DIRECTOR; EVA MAY LAKE (new VP); KAY LYN,
SECRETARY; CINDY SLAUGHTERBECK, PRESIDENT; TOM PUTNAM, ALT STATE DELEGATE;
NANCY SCLAFANI, STATE DELEGATE & KEEPER OF THE RECORDS; CHERYL PUTNAM
(new treasurer); NOT IN PICTURE MARY FOWLER (new VP). NOT PICTURED BOB COMFORD, VP. LARRY
FOWLER PASSED AWAY
1st place
winners: A-19 Amateurs Charlie Vorst & Mark Leimkuehler.

 D-19 Pros Elaine
Antaya & Lois Wegner

Ed Leonard & Bob Kendall. Congrats to all!
First place wnners for the ladies D-18 Shirley
McCullough – Cindy Slaughterbeck
1st
place Am men.. Al MacKenzie & Don Cadotte A-18 1st
place Pro men…Fernand Montplaisir & Jr. Rathburn D-18
58
PLAYERS FROM THROUGHOUT THE SWCD CAME TO THE BRADENTON COURTS SATURDAY
MORNING FOR INSTRUCTIONAL LESSONS FROM AREA 'PRO'S'
BRADENTON
SHUFFLEBOARD CLUB HONORS PAST PRESIDENTS AND THE 'JIM BAILEY' FAMILY
MEMORIAL.
L/R
ROW 2: GLEN PELTIER AND DAVE KUDRO.  FIRST ROW L/R: DAVE MINNICH,
PHIL REBHOLZ AND PAUL PRESCOTT.
DISPLAY
FOR 'JIM BAILEY' MEMORIAL, MONDAY FEBRUARY 14 AT BRADENTON
SHUFFLEBOARD CLUB
BELOW
PICTURE: FIRST ROW L/R: CAROL BAILEY, KRIS BAILEY-ROHLIN, CATHERINE BAILEY
AND CHARLOTTE YANNOTTI.
SECOND
ROW L/R: DAVE BAILEY, JIM BAILEY III AND JOHN YANNOTTI.
FIRST
PLACE WINNERS of the A-15 Tournament JOANNE JOHNSON & PAUL MAILLE
Oh how times have changed!
A-8 and D-8  All first place winners left to right: Don Cadotte-JoAnn
Bryant, Siggy Gudzus-KayLinn Duncan, Cau Huynh-Arnie Congdon
Congratulation to all
National Singles Tournament in Bradenton
we congratulate:
First in Main (walking) Dave Kudro

National Singles Tournament in Bradenton 
L/R:
Pam Nurnberger, 1st Place  in the Main 'WALKING' division &
Cindy Slaughterbeck, 1st Place in the Main  'NON-WALKING'
division. Congratulations!
National Singles: Pam Nurnberger (1st in Main) and Letha
DeVries (1st in Cons.)
P03A First Place winners in Sebring Pam Nurnberger
and Sheryl Putnam, P02A winners Dwayne Cross and Larry Mardis
D-2
Tournament (L/R)  SECOND PLACE:  LARRY MARDIS & PAM
NURNBERGER.  FIRST PLACE:  JUDY CROSS AND CAU HUYNH.
CONGRATULATIONS!
D-1
WINNERS (L/R): FIRST PLACE, JEAN WILSON & PAM NURNBERGER; 2ND PLACE,
RON NURNBERGER & MO JOYAL
6 lane Gordie Howe bridge being build between Windsor
and Detroit. It will be 220m high and 2.5km long. Price tag $5.7 billion.
It will be done in 2024
BRADENTON SHUFFLEBOARD CLUB HONOR'S THE "MILLER FAMILY."
JO MILLER, REPRESENTING HER CHILDREN, NANCY, TIM AND SCOTT HAVE
GIVEN THOUSANDS OF DOLLARS IN PRIZE MONEY, EQUIPMENT, FACE MASKS (BY
GRANDDAUGHTER HOPE MILLER) AND LOYALTY TO SHUFFLEBOARD AT THE BRADENTON
CLUB.
We lost two wonderful people, Ninfa Bailey Sep.
14-2020 and Jim Bailey March 8-2021
Pat Tomko was given a plaque for her 12 years of being
sect'y of the Board. She retired this year 2021.
The
new BSC Board for next season 2021/2022
We congratulate Mike and Ron for winning D-16 this year
again. Marlene Coburn and Pam Nurnberger won it for the ladies.
Suzanne M. Minnich passed from her earthly life to her eternal life in
the arms of her beloved husband of 44 years, David L. Minnich, on
January 12, 2021 at Hospice Hospital in Lakewood Ranch.  Sue's
parents were:  father, Carlton Laudenslager and mother, Mae
Hunsinger Laudenslager, both deceased.  She is survived by her
husband, David Minnich; brother, Michael Laudenslager, PA; son, David
Rhoda, PA; stepchildren, Mary Minnich, PA, Scott Minnich, PA, and Steven
Minnich, PA.  She has 7 grandchildren and 6 great-grandchildren.
Sue was born in Allentown, PA on April 5, 1937.  She graduated from
Allentown High School in 1955.  After graduation, she worked at
Bell Telephone for many years.  After leaving Bell Telephone, Sue
worked at H. Leh & Sons department store as the manager of their
basement.  When H. Leh & Co. opened a new store in Quakertown,
PA, she was appointed the store manager.  It was at H. Leh &
Co. that Sue met her husband to be and they were married on May 15, 1976
in Grace Episcopal Church in Allentown.  In 1979, Sue and Dave
opened a Hallmark Card and Gift store in Trexlertown Mall and soon 3
other locations.  In 1992, Sue and Dave decided to sell their
stores and move to Florida full time.  This after spending a few
years as snow birds in Florida.  While living in Pinellas County,
Sue took up league shuffleboard, along with husband Dave and liked it so
much, she decided to go Pro.  Her very successful shuffleboard
career led her to be inducted into the Florida Shuffleboard Association
Hall of Fame in 2010.  Sue also loved to play and teach MahJongg.
She volunteered at Manatee Memorial Hospital for about 8 years.
Sue also was a greeter and served communion at Parrish United Methodist
Church for many years.
There will be no viewing or service held in Florida.  Sue will be
cremated and her ashes will be kept in an urn by her husband, Dave,
until GOD calls Dave home and his ashes and Sue's ashes will be buried
in the same plot in PA.  In lieu of flowers, donations may be made
to Tidewell Hospice in Lakewood Ranch.  Sue will be so very much
missed and she is forever loved.
Brown & Sons Funeral Homes & Crematory, 26th Street Chapel, 5624
26th St W, Bradenton, FL 34207 is in charge of arrangements.
Condolences may be made at 
www.brownandsonsfuneral.com
.
SWCD PLAYERS SWEEP 'FIRST PLACE" HONORS IN FSA
(P-11)STATE TOURNAMENT
LEFT TO RIGHT MEN'S DIVISION 1st PLACE:   LARRY MARDIS &
TOM PUTNAM
LEFT TO RIGHT LADIES DIVISION 1st PLACE:  MARLENE
COBURN & CHÈRYL PUTNAM
JIM
MILLER MEMORIAL" NATIONAL SINGLES TOURNAMENT NAMES ITS WINNERS!
LADIES DIVISION L/R: KAY LYN DUNCAN (3rd in
MAIN);  DEBBIE NORTON (4th IN MAIN); FLO
KOWALEWSKI  (2nd IN MAIN); PAM NURNBERGER
(1st IN MAIN). PAM RECEIVED HER NATIONAL PIN
WITH THIS WIN.
MEN'S DIVISION L/R:  DWAYNE CROSS (3rd
IN MAIN); ARNIE CONGDON (4th IN MAIN); RON
NURNBERGER (2ND IN MAIN); ROSAIRE COTE (1ST IN
MAIN). ROSAIRE RECEIVED HIS NATIONAL PIN WITH
THIS WIN. NOTE: DWAYNE CROSS ALSO EARNED HIS
200th FSA POINT TO QUALIFY FOR THE HALL OF
FAME DURING THIS TOURNAMENT.
Chuck past away two days earlier than Al (Chuck and Anna are
cousins)  
Subject: BAD NEWS: IT WAS COLD. GOOD NEWS: NO SNOW!!!
L- R: SHARON OLMSTEAD, ADRIANA CRAMTON & CHERYL
PUTNAM
Bonnie is
the poster lady for big smiles.  I bet everyone in therapy just loves
her smiling face..HUGS
Jim Miller's family at BSC 10/29/2018
Wolter Bootsma
Roof Over Committee 2011
Bradenton Club many years ago. 
The
Southwest Coast District lost one of its most popular shufflers recently.
Gene McCullough passed away after a short illness December 23, 2016 in
Bradenton. Gene was from Michigan and worked for the Michigan Milk
Producers Association for 44 years. Gene was also an Army Veteran and very
passionate regarding all Veterans. Gene is survived by his wife Shirley,
his brother Lonnie and was preceded in death by sisters Becky and Dixie.
Gene
married his present wife Shirley from Bradenton in 2011. He proudly helped
with Shirley's induction into the FSA Hall of Fame in 2014. You would see
the two of them together at major State shuffleboard tournaments
as well as our SWCD tournaments. 
Gene
was known for his toothpick (in his mouth) while he shuffled—he would
twist it around some as he pondered each shot. He was known for his
outgoing positive and 'joking' personality.
We
could all take a lesson from his genuine humor and friendliness to all he
came in contact with on and off the court.
Ron
Nurnberger, SWCD President  2017 01 07
Moe LeFavour and (kitchen) Kenny Hartlage
Ray Davis and wife Lois
Happy 100. Birthday Gib
Stannard
December 1/2014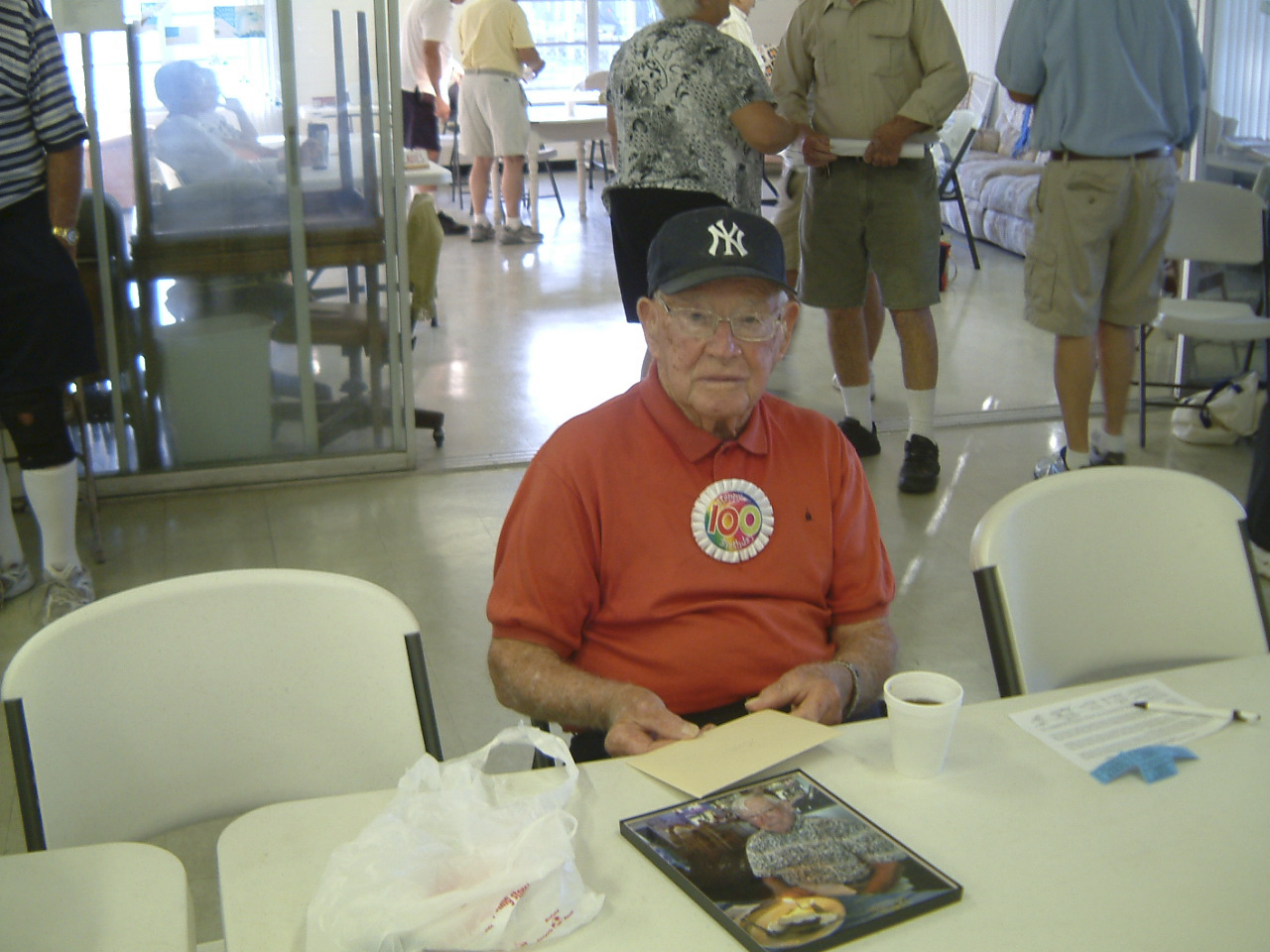 Beautiful Kingfisher