LOCAL SHUFFLERS KNOW THE DEDICATION TO SHUFFLEBOARD (AND HIS WILLINGNESS TO HELP) JERRY EXHIBITS AT ALL TIMES. RECENTLY JERRY VOLUNTEERED MANY DAYS AND HOURS TO PAINT THE 'GUTTER' AREAS ON BSC COURTS. AS U CAN SEE HE LITERALLY GOT ON HIS HANDS AND KNEES FOR DAYS TO PAINT NOT ONLY THE GUTTERS, BUT ALL EDGES BETWEEN THE COURTS AND GUTTERS. THE BSC BOARD IS INDEBTED TO JERRY FOR HIS CONTINUED CONTRIBUTIONS TO THE BRADENTON SHUFFLE CLUB—THANKS AGAIN JERRY.
AT ITS APRIL BOARD MEETING, RUTH LANDES FROM "LANDES EMERGENCY TRAINING SERVICES" PROVIDED UPDATED 'CPR' TRAINING AND 'AED'INSTRUCTION TO BSC BOARD MEMBERS AND TERRI SMITH, SWCD TOURNAMENT DIRECTOR. THE NEW "DEFIBRILLATOR, WAS."GIFTED" TO THE BRADENTON CLUB THROUGH THE EFFORTS OF BOARD MEMBER FRANK MARDEROSIAN.  PLANS ARE TO HAVE A FALL TRAINING FOR ANY MEMBERS WHO WISH TO ATTEND.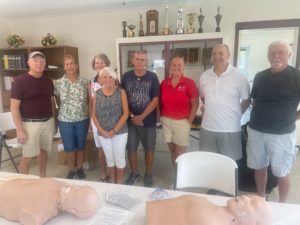 L/R:  DAVE WELSH, TERRI SMITH, DONNA SCHULTZ, PAM NURNBERGER, FRANK MARDEROSIAN, RUTH LANDES, MIKE MARQUIS AND JEAN WILSON JR.